Our Services
Get Pumped can handle all your septic service needs quickly, efficiently, and done right. Our professional technicians can tackle any mess or issue, offering services that cater to both residential and commercial clients. Expect hardworking and friendly technicians that can help clear and repair any damaged tanks, systems, and/or septic issues. With an array of pumping services to portable toilet rentals, we do the dirty work, to help keep you clean! Give us a call and we'll help you GET PUMPED today!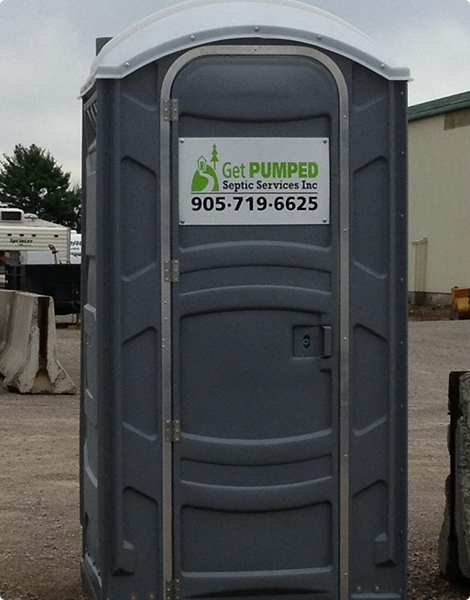 Septic tank pumping
Residential and commercial septic tanks must be maintained on a regular basis; at least once every one to three years depending on how commonly it is used and by many people. Frequent usage will require you to pump the tank and maintain its cleanliness more often. Get your tank pumped out of all its sludge using our vacuum truck to clear everything. We'll ensure a check through for any deterioration, cracks, excessive sludge, blockages and more, to help you avoid any future issues.
Septic system repairs and restoration
Every single tank requires a different maintenance plan and needs to be restored according to usage. Frequent use can often require monthly maintenance and inspections to keep unwanted odours under control. Keep an eye on the capacity of the tank and the volume of wastewater added to monitor how often you need to check on your septic tank. Our Get Pumped staff will thoroughly check through your septic system to ensure that it is durable and in full functioning order.
Holding tank pumping
Get your holding tank pumped before it completely fills to avoid any mess. Depending on how much wastewater is used in your holding tank and its size, the maintenance plan for regular pumping can vary. Call Get Pumped to have our technicians take care of flushing out your system and making sure that your holding tank is freshly emptied. As with any septic tank pumping service, our technicians will provide an inspection on the tank and system to ensure that there are no cracks, leakages, or weaknesses that may cause any future damage.
Tank locating
Get Pumped has all the right equipment to help locate your septic tank. Our technicians will find the correct connecting pipes, plumbing, and tanks; we can also locate any buried or hidden septic tanks as well. Call Get Pumped to conveniently schedule an appointment for a proper septic tank locating ASAP.
Baffle inspection and repairs
Septic tank baffles are vital within residential wastewater systems as it's the mechanism that forces wastewater deep into the tank, away from the surface scum layer. Call for an appointment as soon as you begin to see signs of any issues with the septic tank baffle, as it can cause further damage to your system later on. Whether it's an inlet or an outlet baffle, our technicians at Get Pumped will provide a detailed inspection and repair whatever problem they need to tackle.
Tank riser installation
A septic tank riser is used to extend existing tank lids (or replace existing) lids to bring the access points of the tank to/just below ground level. Getting tank risers installed will prevent any costly digging, provides quick and easy access to the septic tank, and promotes regular maintenance. Our technicians will assess the area to find the right sizing and type of riser needed for your tank. Get Pumped will install tank risers custom tailored to your property needs.
Portable toilet rentals
Ideal for outdoor gatherings or events, from construction worksites to special events, Get Pumped has you covered for portable toilet rentals needed at any occasion. Our friendly staff will efficiently deliver the facilities directly to the location needed and can be used immediately. Allow Get Pumped to provide clean, temporary sanitation services for your outdoor event and can service them regularly as well, if needed for long term use. Call/email us today for a quote or to inquire about what types of services you're looking for and we'll get you set up ASAP.
Septic Inspections
Get pumped offers professional and detailed septic inspections for both residential and commercial septic tanks. It's vital that you provide regular maintenance and get routine inspections to extend the life of your septic tank. A septic tank needs to be pumped when the combined depth of the sludge and scum layers fill up one third of the tank. While the usage may vary depending on location and who uses it, all septic tanks will require regular inspections to ensure that there is no leakage or developing issues with the system. Whether you need an inspection for an emergency problem or a routine check-up, call Get Pumped today to take care of all your septic needs.
New Septic Installation
We provide efficient and professional installation services for new septic tanks and systems. Every new septic system in Ontario must meet the Ontario Building Code (OBC) standards, and need to be designed by a qualified septic designer along with a Building Code Identification Number (BCIN). Different types of properties will have custom requirements dependent on whether it's residential or commercial, what the soil is like in the installation area, and how often/how many people will be using the system. Get Pumped technicians are here to help assess your property and install any type of septic system you require. Book your appointment today and contact us here.